JUMP TO SUMMARY
With a foot-healthy design and stylish appeal, the Lems Chillum is an exciting addition to the Lems lineup. Built using the same last as the celebrated Boulder Boot, this strictly casual option is an easy pick for errands around town, dinner out with friends and loved ones, or workplace functions that call for smart footwear. If you're already a fan of the Lems Boulder Boot, look no further for a low-cut, warm-weather-ready cousin that offers you a similar feel, albeit with new materials that shed weight and provide more breathability. Comfortable, packable, and foot-health-positive, the Chillum comes in multiple colorways that range in appearance from street-stylish to business casual.
In this Lems Chillum shoe review, we drill down on this lightweight casual shoe to give you a better sense of its top attributes, what activities it can be used for, and who might benefit from wearing it. Read on, then, for our full review of the snazzy Lems Chillum!
What Are the Best Attributes of the Lems Chillum Shoe?
At first glance, the Lems Chillum appears to be a relatively simple and straightforward shoe. But take a closer look, and you'll see that it possesses a clever design, thoughtful construction, and high-quality materials. Built into the Chillum are a number of design features or elements that help ensure the healthy functioning of your foot and the longevity of the shoe itself. In our estimation, the top three best attributes of the Lems Chillum shoe are the following:
Mixed-Material Upper: The Chillum's attractive mixed-material upper is, for most colorways, composed of suede, canvas, and wool. With canvas in the front and wool in the back, this apportionment gives the Chillum a classy yet functional look. Several of the available colorways (i.e., Spruce, Vanilla, and Varsity Blue) incorporate a slick suede accent that lines the outsole, whereas the outsole of the Blackjack colorway is lined with a vegan microfiber for those seeking a suede alternative. Also, the Vanilla colorway in this model does not incorporate wool, and there is a separate version of the Chillum (the Bedrock colorway) that possesses an all-suede upper with pinhole perforations throughout. In testing this shoe, we found the upper to be breathable, but not so much so as to make it a strictly warm-weather shoe. In other words, the Lems Chillum is quite capable of handling a variety of temperatures.
Wide Toe Box: Like its cousin, the Boulder Boot, the Chillum possesses a generous toe box that leaves ample room for your toes to splay, the way nature intended. The "WIDE Natural-Shape" last upon which the Chillum is constructed is the second-widest (of three) that Lems uses throughout its product line, and most people find the in-shoe volume, especially in the toe box, to be more than adequate. Indeed, this is a shoe that largely stays out of the way of your foot and does not significantly encroach upon your toes, which is essential for foot and toe rehabilitation and achieving lasting foot health. We tested this shoe while wearing Correct Toes and found the toe box to be Correct Toes compatible, and this will be true for most users, we believe.
Outsole Design & Construction: As with most of Lems' offerings, the Chillum has a zero-drop sole, which means that it is completely flat from heel to toe. This helps to stabilize your foot and ankle and enable natural arch support. The lightweight 9.0 mm air-injected rubber outsole of the Lems Chillum is plenty grippy for city jaunts or mild hikes on packed surfaces, and it offers a nice compromise between sole flexibility and foot protection. Though the sole of the Chillum may not be quite as flexible as some of the other models in the Lems lineup (such as the Primal 2, for example), we found that it is still bendy enough and thin enough to allow your foot to function naturally and sense the ground. One final thing to note here is that the Chillum's rubber outsole is surprisingly durable, given its relatively lightweight nature.
These attributes are admirable in and of themselves, but when they are taken into consideration together, it becomes clear that the Lems Chillum—a shoe that can be defined in equal measure as a wide toe box casual shoe, a zero-drop everyday shoe, or a lightweight walking shoe—occupies a unique and important space in the world of foot-healthy footwear. That is, as a shoe that bridges the gap between fashion and foot function. With this important distinction made, let's now take a closer look at the various activities for which the Lems Chillum may be most suitable.
What Activities Can the Lems Chillum Shoe Be Worn For?
As the name of this shoe implies, it is great for, well, chilling. A relaxing day can be ruined by uncomfortable footwear, but the Lems Chillum provides the ideal combination of style and comfort to keep your mind (and feet) at ease. Heading out on a gentle walk around the neighborhood with your favorite four-legged friend? Visiting a historical landmark or a cool venue on your long weekend getaway? Hanging on your front porch while listening to your favorite podcast? Hopping on your flat-pedal cruiser for a leisurely trip to your local bakery? Camping out in the backyard with the kiddos for the night? Meeting friends for a refreshing beverage downtown at the end of a busy day? For all of these activities and so many more, consider the Chillum as a great go-to option.
As mentioned earlier, you can also use the Lems Chillum in more formal settings, including in many workplaces that don't mandate the use of severe conventional footwear as part of the office dress code. Many people find that the Chillum works great for this very purpose, especially the Blackjack colorway, as it pairs nicely with so many different outfits and in so many different scenarios, including jobs that require standing for long periods. Indeed, the 0.8-mm cork-topped PU insole has a plush feel that provides all-day comfort, making the Lems Chillum a great shoe for active, on-the-go days in both your personal and professional lives. At around 8 oz. per shoe, the Chillum is also exceptionally lightweight. Combine this lightweight nature with Lems' trademark packability, and this wide toe box everyday shoe makes for an excellent travel companion.
SHOP LEMS CHILLUM SHOES
What Foot Conditions Is the Lems Chillum Shoe Suitable For?
The right shoe can provide your foot with the environment it needs in order to thrive, while the wrong shoe can lead to all kinds of easily preventable foot and toe problems over time. In order to ensure that you're selecting footwear that honors the natural form and function of the human foot, it's important to assess a given shoe for its various design inclusions (or exclusions) so that you can give your feet the best possible chance of functioning optimally, as nature intended. We've put together a blog post entitled How to Shop for Shoes that goes deep on this important topic, but the gist of it is that you want to seek out and adopt footwear that allows your foot to operate on a level plane (i.e., is flat from heel to toe) to bolster foot and ankle stability, possesses a flexible sole to build foot strength, and incorporates a sufficiently wide toe box to enable natural toe splay and all the benefits associated with it.
When it comes to foot-healthy design inclusions, the Lems Chillum measures up quite well. It's got a flexible zero-drop sole, a generous toe box, a low overall stack height, and a lightweight design—all important features that can set you up for long-term foot health success. A shoe like the Chillum may not, in and of itself, correct all manner of chronic musculoskeletal problems in the foot and toes, but it does offer you, the user, the possibility of achieving these things when used in combination with other helpful footgear (more on this in a section below) and other noninvasive strategies. And it certainly does not harm the foot, encroach upon it, or dictate its ability to flex, bend, and articulate. When incorporated as part of a comprehensive approach to foot and lower limb wellness, the Chillum may be helpful in preventing or addressing problems such as bunionettes, bunions, capsulitis, crooked toes, flat feet, hallux limitus, hammertoes, ingrown toenails, neuromas, plantar fasciosis, runner's knee, sesamoiditis, shin splints, tarsal tunnel syndrome, and tendinitis.
Do I Need to Transition to Wearing the Lems Chillum Shoe?
With a 13.8 mm stack height (with the included insole), the Lems Chillum offers a comfortable fit and feel out of the box for many sets of feet but is on the "more cushioned" end of the spectrum when it comes to foot-healthy footwear. By our definition, this would put the Chillum more in the "transitional shoe" category than the minimalist shoe category. While this wide toe box walking shoe may offer ample cushioning for some, others may find they need a bit of additional material beneath the sole of the foot as they make the transition to more minimalist models. Of course, each person has unique needs when it comes to transitioning away from conventional footwear. Some people are able to taper their use and make the jump to minimalist shoes quite quickly, whereas others need to go more slowly, incorporating transitional footwear, like the Chillum, for a period of time. In our experience, we've found that the Lems Chillum functions great as a transitional shoe—especially given the fact that you can remove the 3.8-mm-thick insole to achieve more ground feel as you progress on the path toward true minimalism—and most people can wear it comfortably straight away.
Is the Lems Chillum Shoe Compatible With Other Footgear?
A key consideration when evaluating any shoe for its potential impact on foot health is whether or not it can easily accommodate the use of other helpful footgear. Correct Toes compatibility, in particular, is an important thing for a shoe to possess, as it indicates that the shoe will permit optimal toe alignment and function. The Lems Chillum is, fortunately, Correct Toes compatible for most sets of feet. Because the Chillum is built on the second-widest last that Lems uses throughout its product line, wider-footed individuals may find that its toe box is not quite adequate for accommodating Correct Toes. The good news is that, by removing the included (optional) insole and/or using the FootFitter Shoe Stretcher, users in this camp can typically create the necessary space in the toe box to comfortably house the toes with Correct Toes on. One thing you can do to definitively determine whether or not a shoe is sufficiently wide for your foot (and forefoot, most crucially) is to perform the Shoe Liner Test, preferably while wearing your Correct Toes.
While Correct Toes compatibility is a chief consideration when selecting a shoe, it's also important to assess how well the shoe will work with other supporting footgear, including Injinji toe socks, Pedag metatarsal pads, and Naboso insoles. This trio of natural footgear works great in concert with Correct Toes and foot-healthy footwear, such as the Lems Chillum, to rehabilitate the foot and promote its inherent strengths and attributes. You can also use other items, such as BlackBoard training tools, Zensah compression sleeves, and the Naboso Neuro Ball, alongside the Lems Chillum to help you achieve a variety of foot and musculoskeletal health goals. For any wearers who experience point tenderness beneath the heel after adopting the Lems Chillum (rare), Tuli's heel cups can be another useful item to help address the problem and aid the switch to this transitional-style shoe. All of the above-mentioned footgear works well as standalone products, but there is a nice synergy that occurs when multiple items are used concurrently.
SHOP OTHER HELPFUL FOOTGEAR
What Size Lems Chillum Shoe Should I Choose?
Getting the sizing right for any shoe is of the utmost importance, as it so strongly dictates your experience of the shoe and its impact on the form and function of your foot and toes. When it comes to the Lems Chillum, the manufacturer recommends that you order a half-size up from your normal US shoe size, and we ourselves have found this to be sound sizing advice. That said, we all have unique feet. Some reviewers have reported that their normal US shoe size provided an optimal fit. If you're unsure what size to order, we recommend simply ordering both sizes and then returning the size that doesn't fit as well for a refund. In general, we find that it's best if there is about a centimeter of space or so beyond the ends of the toes, as this provides some buffer room in the event of any forward foot displacement within the shoe or to accommodate a lengthening of the foot that so commonly occurs after the adoption of healthy-foot-shaped footwear.
How Do Men's vs. Women's Versions of the Lems Chillum Compare?
The men's and women's versions of the Lems Chillum are designed on the exact same last, so there is no difference in the relative proportions or dimensions between them. Indeed, we noticed no difference whatsoever in the width-to-length ratio when comparing men's and women's models side by side. Men's options in this model are simply scaled-up versions of the women's options, and women's options in this model are simply scaled-down versions of the men's options. This is salient because some manufacturers allocate a relatively narrower toe box to one gender or the other, which can affect your ability to fully spread your toes or use other beneficial footgear, such as Correct Toes, to realign your toes and rehabilitate your feet. Fortunately, this is not the case with the Lems Chillum, which provides equal toe box space for all pairs of feet.
How Durable Is the Lems Chillum Shoe?
High-quality manufacturing is something we've come to expect from Lems footwear, and the Chillum is no exception in this regard. The materials used to construct this shoe, as well as how they are put together, speak to the importance that Lems places on shoe durability, and you should reasonably expect this shoe to have excellent longevity. As is the case with all footwear, though, durability depends on the type of use the shoe is subjected to. For everyday wear around town or walking on concrete, the Lems Chillum is no less durable than other rubber-soled shoes (and perhaps even more so). This shoe will hold up to extensive use, but it won't last forever. If you plan to use the Chillum as more of a zero-drop casual shoe for select activities, it will certainly last quite a bit longer. If you want to maximize durability and help these shoes retain their spiffy appearance, Lems recommends treating the suede parts with an aftermarket product such as Otter Wax or Nikwax.
SHOP LEMS CHILLUM SHOES
What's the Difference Between the Lems Chillum Shoe and Other Lems Shoes?
Each individual Lems model possesses unique design characteristics while at the same time incorporating a distinctive Lems DNA that winds its way throughout the entire product line, especially when it comes to how your foot functions within the shoe. Indeed, what separates one Lems model from another, besides the cut of the shoe or boot and the specific last used to construct it, really comes down to the appearance of the shoe, the kind of materials used and how they are put together, and the particular colorways available for purchase. What you'll get from most Lems models is a healthy in-shoe environment for your foot to function and thrive, and the Chillum is no exception here.
While the Lems Chillum includes the same rubber outsole that you'll find in many of the other casual shoe models in the Lems lineup (e.g., Nine2fives, Drifters, Kourts, etc.), it deviates considerably when it comes to the upper materials used and how they are assembled. To date, the Chillum is the only Lems shoe that incorporates wool, and it's certainly the only model that brings together wool, canvas, and suede (or vegan microfiber) to form the upper. Also, what makes the Chillum distinctive from other Lems models is that, in our opinion, it is perhaps the best crossover shoe of the bunch, in that it can be dressed up or down to serve a variety of purposes and occasions.
Are There Any Additional Considerations for This Shoe?
While we are impressed by the foot-healthy nature of the Lems Chillum as well as its striking visual appeal and its ability to be worn in a variety of settings, and while it's hard to find fault with a shoe that's clearly intended for lighter use (one shoe alone cannot possibly meet all needs and demands), there are a few possible areas of improvement that we feel could turn this already excellent shoe into a stellar one. Here are a few considerations to contemplate, then, when deciding whether or not to purchase the Lems Chillum:
Toe Box Width & Shape: It's true that the Chillum possesses a generous toe box, but there are a number of foot-healthy models out there, including some within Lems' own product line, that exceed the toe box width you'll find in this particular shoe. For those who have wider feet or thicker toes, the width and shape of the Chillum's toe box may simply not be enough to comfortably accommodate natural toe splay. As mentioned earlier in this review, it's possible, in many cases, to remove the included insole or use the FootFitter Shoe Stretcher to create the additional room needed, especially around the first and fifth toes.
Traction: Though not at all touted as a grippy, high-traction footwear offering, the Lems Chillum's tread is just not well-suited to icy, snowy, or slippery conditions. For those living in warmer climates, this will not be an issue, but for those in more northern climates, you'll want to factor this into your equation for when, where, and how you use this shoe. Pairing the Chillum with a winter traction aid can, of course, be helpful in boosting grip in icy conditions, and most traction aids should be compatible with this zero-drop walking shoe. One factor that helps compensate for the low-traction nature of the Chillum, though, is its relatively wide sole, which increases the contact surface area with the ground and aids balance and stability.
Cold Weather Use: As previously mentioned, the Lems Chillum isn't particularly winter-ready, though that's not to say that you absolutely can't use it in colder weather conditions. This shoe could work in cold weather for those whose feet don't run cold, but, as previously mentioned, the tread is ill-prepared for snow and ice, and the low-cut nature of this shoe won't do much to keep water out. If you do intend to use this lightweight everyday shoe in colder conditions, we recommend that you combine it with a thick, warm pair of socks and avoid using Correct Toes toe spacers in this scenario, as the device (being silicone) can become quite cold against the toes.
The above are some important considerations to ponder when it comes to the Lems Chillum. None of these factors may be deterrents in and of themselves, but they are all important to evaluate and mull over when deciding whether or not the Chillum will be right for you. Ultimately, the Lems Chillum is a solid option for most sets of feet, most of the time. We do feel, though, that incorporating some of the above points into the design could make this shoe even better.
Lems Chillum Shoe Review: In Summary
The Lems Chillum seamlessly melds style and comfort with a slate of foot-health-positive design features. If you're into foot-healthy transitional or minimalist-like footwear and love the appearance of this shoe, the hip and happening Chillum won't disappoint. Great for a wide range of settings and occasions, the Chillum is a versatile and classy choice for those who frequently find themselves on the go. If you're already a fan of the Lems Boulder Boot, this shoe is the perfect low-cut and warmer-weather companion. Built from the same last and incorporating the same outsole, you'll experience similar ground feel and flexibility, but with some added flair. Overall, we're pleased that Lems added the Chillum to their existing footwear lineup. The foot-conscious finally have a fashionable, Vans-like option for hitting the streets in style.
The Lems Chillum scores 4.4 (out of 5) on the NFAR scale, which puts it in the "excellent" range for foot-healthiness.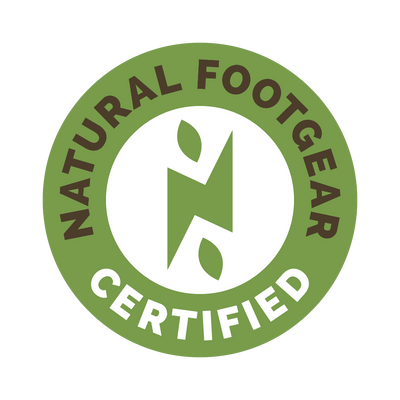 Natural Footgear Certified
The Lems Chillum shoe is Natural Footgear Certified, which means that it lives up to our strict criteria for what constitutes a healthy and beneficial natural foot product. In order to receive Natural Footgear Certification, products must conform to the key criteria we have identified as essential in supporting long-term foot and musculoskeletal health, and footwear must additionally score at least 4.4 out of 5.0 on the NFAR scale.
Disclosure:
We may receive affiliate compensation in connection with the purchase of footwear mentioned on this page (this doesn't cost you, the purchaser, anything, and it helps to keep Natural Footgear going). Even though we may receive compensation, we always give our honest opinions, findings, beliefs, or experiences on or about all models. See our Ethics Policy for more details.
Related articles:
Among functional footwear, the Lems Primal 2 is a true standout. Hailed for its foot-friendly design, comfort, and overall attractiveness,... Read more
The Lems Nine2five is an attractive, foot-healthy, lightweight men's Oxford dress shoe that's appropriate in both business and casual settings. In this product review, I'll highlight the... Read more