Lems Primal Pursuit Shoe Review
JUMP TO SUMMARY
After testing the Lems Primal Pursuit over a range of conditions, climates, and activities, we've been impressed by its incredible versatility and its ability to handle everything we've thrown at it. Sporting a durable design and a foot-friendly environment, this shoe is thoughtfully constructed and out-of-the-box-ready for your next adventure. With the Primal Pursuit, Lems has managed to create an exceptionally lightweight shoe that you hardly notice until you put it to work on the trail, at the gym, or wherever you find your highest joy in motion. Attractive, comfortable, and up to just about any task you can think of, the Lems Primal Pursuit shoe is an all-around winner and fits perfectly into the activewear niche, pairing nicely with both workout and casual attire.
In this Lems Primal Pursuit shoe review, we'll explore the many attributes and uses of this sturdy shoe and take a closer look at the role it can play for those making the switch from conventional footwear to minimalist footwear. Read on, then, for our full review of the multifaceted Lems Primal Pursuit!
What Are the Main Features of the Lems Primal Pursuit Shoe?
The Lems Primal Pursuit incorporates an abundance of notable design features that help enhance the user experience and ensure that your foot is able to function at its best. Three features of this shoe, in particular, stand out to us as noteworthy, and these are the following:
High-Quality Materials: It's clear that when it comes to the material selections for this shoe, Lems deployed a lot of care and consideration. The upper of this wide toe box walking shoe is constructed of high-quality PU synthetic or suede (depending on the colorway), which surrounds the toe box and heel areas to help protect your foot from scrapes, dings, and abrasions where they're most likely to occur. The Primal Pursuit's upper also incorporates light yet durable air mesh sections that permit optimal breathability, as well as a moisture-wicking polyester lining to help keep your foot cool and dry. Pairing these inclusions with a high-performance EVA midsole, premium laces, and a helpful heel tab makes for a functional and sturdy shoe that, after a couple of months of heavy use, has held up well and retained its luster.
Grippy Outsole: One of the most prominent and celebrated features of the Lems Primal Pursuit shoe is its supremely grippy, all-rubber outsole. With the Primal Pursuit, Lems introduced an all-new, proprietary Trail Traction outsole that incorporates recessed grooves and 3.5 mm singular lugs. The result? Exceptional traction on a variety of wet and dry surfaces, including rocky terrain, soft and packed dirt, paved trails, gym mats, and just about anything you might encounter that doesn't require a rope for the ascent. Another great aspect of Primal Pursuit's outsole is the fact that it wraps around the front of this shoe's toe box, acting as a sort of "toe bumper" that provides additional toe protection while also enhancing the lifespan and durability of the shoe itself.
Foot-Healthy Design: Lems footwear is, of course, well-known for incorporating a variety of foot-healthy design features, and the Primal Pursuit is no exception. Indeed, this lightweight hiking shoe possesses a toe box that most users find sufficiently wide to support the use of Correct Toes—a medical-grade silicone toe spacing device that helps restore optimal toe splay and strengthens the foot. (Note: Some users with wider feet may find it helpful to remove the included (optional) shoe insole to open up maximum space within the shoe, especially in the toe box.) Along with a wide toe box, the Lems Primal Pursuit also boasts a zero-drop sole that allows your foot to operate on a level plane, which is important for foot and ankle stability and for enabling natural arch support. The sole of the Primal Pursuit is a little thicker (and therefore less flexible and minimalist) than some other Lems models, but this can have its upsides for certain users—more on this topic to come.
Each of the above features is notable and desirable in its own right, but when they are considered collectively, it leaves one with little doubt that this shoe—which can be described equally well as a zero-drop casual shoe, a lightweight walking shoe, a wide toe box hiking shoe, or a foot-health-positive transitional shoe—is a special player in the field of foot-healthy footwear, a shoe with massive utility and crossover appeal. With that in mind, let's now take a closer look at the kind of activities in which the Lems Primal Pursuit excels.
What Activities Is the Lems Primal Pursuit Shoe Suitable For?
Based on our experience in testing the Lems Primal Pursuit, we've found that this shoe is well-suited to a wide range of uses and activities, and there are seemingly few scenarios in which use of the Primal Pursuit is truly contraindicated. Indeed, these shoes excelled while hiking on variable terrain, during high-intensity gym workouts, and on trail runs where the grippy outsole was put to the test. And when these outings and activities were followed by food or drinks, the eye-catching Primal Pursuit often garnered compliments for its style and appearance. The Primal Pursuit is also a great option for those who are required to stand for prolonged periods at work.
For avid trail runners, the Lems Primal Pursuit holds up well to sustained use on gnarly, technical trails and provides offroad enthusiasts with a viable alternative to other, more built-up options in the trail shoe genre. For those who tread more lightly on level, packed trails or who run less frequently, the Primal Pursuit could certainly function as a go-to trail runner as well. This shoe was, after all, designed to help you embrace the great outdoors, and it occupies a unique space in the market that caters to experienced outdoor athletes, newcomers to the sport of trail running, and foot health enthusiasts alike.
Because this shoe performs so well both on and off the trail, though, it's tough to pin down just one thing that it's best for. Certainly, it works great for all manner of vigorous outdoor pursuits. But it also excels as a travel shoe, providing comfort in the car or on the plane while allowing you to seamlessly transition to a scenic hike at the nearest national park. Ultimately, it's a lightweight, warm-to-cool weather, mountain-to-town sneaker that performs equally well for daily and casual use. For the spontaneous traveler who stops at every viewpoint and trailhead, or for new initiates into the world of natural foot health, it might just be the perfect shoe.
SHOP LEMS PRIMAL PURSUIT SHOES
Is the Lems Primal Pursuit Shoe Good for Your Feet?
An understanding of and appreciation for the role that footwear plays in the health and function of the human foot has grown steadily in society over the years. More and more people are now scrutinizing potential footwear selections to assess what features a given shoe may or may not possess, with the goal of choosing footwear that does not, in any way, impede the foot but instead lets it perform as nature intended. It's our experience that a foot-healthy shoe creates the kind of circumstances and in-shoe environment that allow your foot to thrive and that can be helpful in preventing or addressing a wide range of common foot and toe ailments.
This is not to say that a shoe alone may be the answer to your specific foot problem (as foot problems can certainly be multifactorial and, in some cases, unrelated to footwear selection entirely). But for many people, what you put on your feet can play an outsized role in how your feet feel, look, and function. When we consider the Lems Primal Pursuit shoe in terms of its impact on musculoskeletal health and the kinds of problems it might be helpful for, it's important to look at its design to gain a better understanding of whether it will help or hinder optimal foot form and function.
We've already identified earlier in this review article the main foot-healthy design features inherent in the Lems Primal Pursuit, but to reiterate, these include a wide toe box, a zero-drop sole, and an overall lightweight design. These important design elements allow your foot and toes to operate in a more natural way, and they prevent the shoe from encroaching on your foot or dictating its movement. This can be very helpful for those hoping to prevent or address a number of foot problems, including bunions, bunionettes, hammertoes, other types of crooked toes, neuromas, capsulitis, sesamoiditis, plantar fasciosis, hallux limitus, ingrown toenails, shin splints, and runner's knee.
Of course, a comprehensive approach to foot care is always best, and this may include the use of other helpful footgear, such as Correct Toes, and the performance of various stretching, strengthening, and mobility exercises to improve the suppleness and resiliency of your feet. We always recommend that you consult a licensed foot care professional before beginning any protocol that is intended to address a specific foot problem, as a healthcare provider can offer you the kind of detailed and nuanced care you require based on your specific presentation, considerations, and needs.
Is the Lems Primal Pursuit Shoe Good for Transitioning to Minimalist Footwear?
For those who have worn conventional footwear for many years or decades, or for those who have sensitive feet that are unaccustomed to interacting with the ground on their own, transitioning slowly and gradually to true minimalist shoes may take some time. The gateway to wearing healthy-foot-shaped minimalist footwear for individuals in one or both of these situations, then, is to adopt a shoe that bridges the gap between conventional, built-up footwear with heel elevation, toe spring, and tapering toe boxes and super flexible, thin-soled minimalist footwear. Enter the Lems Primal Pursuit, a sneaker that, for many, works perfectly as a "transitional" shoe between these two poles.
With a 14 mm stack height (18.5 mm with the optional 4.5 mm moisture-wicking PU insole), the Primal Pursuit offers enough cushioning for most people who are beginning the transition to more foot-healthy shoes. The soles of the Primal Pursuit are stiffer than some of the other models that Lems produces, but the wide toe box, zero-drop platform, and lightweight nature of this shoe still allow users to achieve foot health gains while progressing toward more minimalist offerings. The 4.5 mm PU Adventure Insole is also quite plush but a bit stiffer in the heel to provide more sole protection where the foot tends to be more sensitive. As your foot adjusts, however, you can simply remove the insole to experience increased ground feel or replace it with a thin, textured Naboso insole to enhance proprioception.
While the Lems Primal Pursuit can be an ideal transitional shoe for many, it may not provide enough cushioning for certain sets of feet. That said, the ability to use these shoes in combination with Correct Toes and/or eventually remove the insoles to reduce the stack height makes them a great candidate for aiding the transition to minimalist footwear.
Is the Lems Primal Pursuit Compatible With Other Helpful Footgear?
One of the key things we look at when assessing the foot-healthiness of a given shoe is whether or not it can successfully be used in combination with the other footgear we know from our own experience to support long-term foot and musculoskeletal health. As mentioned above, the Lems Primal Pursuit pairs nicely with Correct Toes toe spacers to help realign the toes, restore optimal toe splay, and improve overall foot and toe health and function. It's essential to use Correct Toes in a weight-bearing situation to achieve these aims, though, and this is where the accommodating Primal Pursuit comes into play, providing sufficient room in the toe box to house the forefoot with spacers on. Some folks with wider feet may find it helpful to remove the included (optional) liner to open up more space inside the shoe to accommodate Correct Toes and the other footgear mentioned in this section.
We've found that, in addition to Correct Toes, the Lems Primal Pursuit works well with a host of other helpful footgear, including Injinji toe socks, Pedag metatarsal pads, and Naboso insoles. Combining this footgear with the Primal Pursuit itself can help enhance foot comfort and assist with foot and toe rehabilitation with each and every step you take. Other natural footgear that you can use alongside the Lems Primal Pursuit to achieve robust foot and lower leg function includes Zensah compression sleeves (for athletes in particular), the Naboso Neuro Ball, and BlackBoard foot training tools. These items help complement the work of the in-shoe products mentioned above and can be used on a regular basis to support and accelerate your journey toward optimal foot health.
SHOP OTHER HELPFUL FOOTGEAR
What Size Lems Primal Pursuit Shoe Should I Choose?
Ready to give the Lems Primal Pursuit a go but curious about sizing? Lems has different sizing recommendations for the Primal Pursuit based on the specific colorways available. For the Morning Dew and Nocturnal Ninja colorways, the manufacturer suggests ordering a half-size up from your normal US shoe size. So, if you normally wear a US size 9 shoe, consider ordering a size 9.5 in the Morning Dew and Nocturnal Ninja (this applies to both the men's and women's models in these colorways). For the Suede Canyon and Orion Blue colorways, Lems recommends ordering your normal US shoe size. This also applies to both the men's and women's models in these colorways.
Our tester, who is normally between sizes, simply ordered the larger of the two and found the fit to be ideal. As with all healthy-foot-shaped footwear, it's important to understand that you may initially find these shoes a bit roomy in the toe box, especially if you're transitioning away from conventional footwear, but the fact that your toes have more room to operate is a good thing. Most people adapt quickly to the increased toe box volume and find it difficult to return to conventional footwear, knowing (and feeling) the impact it's having on the toes and feet.
SHOP LEMS PRIMAL PURSUIT SHOES
How Do Men's vs. Women's Versions of the Lems Primal Pursuit Compare?
The men's and women's versions of the Lems Primal Pursuit are designed on the exact same last, so there is no difference in the relative proportions or dimensions between them. Men's options in this model are simply scaled-up versions of the women's options, and women's options in this model are simply scaled-down versions of the men's options. This is notable because some manufacturers apportion a relatively narrower toe box to one gender or the other, which can impact your ability to fully splay your toes or use other helpful footgear, such as Correct Toes, to realign your toes and strengthen your feet. Not so with the Primal Pursuit, which grants equal footing to all sets of feet.
How Durable Is the Lems Primal Pursuit Shoe?
The durability of the Lems Primal Pursuit is a key attribute of this shoe that sets it apart in the foot-healthy footwear market. Crafted with a commitment to quality, this shoe is built to withstand all manner of challenges or stress. The mixed-material upper incorporates a sturdy yet breathable air mesh, which helps ensure a resilient yet lightweight design. And the PU or suede sections of the Primal Pursuit's upper, secured with high-quality stitching and positioned over potential points of contact or friction, can easily tolerate a high degree of abuse.
As mentioned earlier, Lems has incorporated into the Primal Pursuit a wide toe box and a zero-drop platform, two features that help enhance natural movement and serve to distribute pressure more evenly throughout the shoe, which ultimately contributes to less wear and tear on the shoe itself. Also, the inclusion of the new Trail Traction outsole adds extra protection and longevity to the sole of this shoe, allowing you to confidently navigate a variety of terrain with confidence and ease over the long haul.
Whether you're an outdoor enthusiast or someone looking for a high-quality, everyday shoe, the Lems Primal Pursuit delivers on durability, making it a fantastic choice for foot-healthy footwear enthusiasts seeking a long-lasting investment.
Does the Lems Primal Pursuit Shoe Have Good Traction?
There are several factors to consider when assessing the degree of traction you can expect from a given shoe, and the Lems Primal Pursuit excels in all of them. First, the outsole material should be sufficiently grippy or "sticky," and the Primal Pursuit's Trail Traction rubber outsole makes the grade here, as it is indeed quite grippy. This shoe holds its ground on a variety of surfaces and in a variety of circumstances, including wet conditions. Second, the outsole should possess an effective lug height and design to help you dig in and propel yourself forward, especially when the trail tilts uphill. The Lems Primal Pursuit incorporates 3.5 mm singular lugs arrayed in a helpful pattern that will keep you striding forward with grace and ease. Last, and perhaps most important, when it comes to achieving good traction, the shoe should interact with the ground over as large a surface area as possible. The Primal Pursuit's wide, healthy-foot-shaped sole does just that, providing you with a solid foot-ground connection that enhances not only traction but also balance and stability.
SHOP LEMS PRIMAL PURSUIT SHOES
How Wide Is the Lems Primal Pursuit Shoe?
By any estimation, the Lems Primal Pursuit is a "wide" shoe, but it's wide in the toe box, specifically, as opposed to wide at the ball of the foot, as is the standard with conventional footwear (though this shoe is also wide at the ball of the foot). Lems uses several lasts—a 3-dimensional wooden or plastic mold around which a shoe is constructed—throughout their product line (i.e., three variations of their "Natural-Shape Fit" last—Medium, Wide, and Widest), and the Primal Pursuit is built on the Wide version. So, this means that it is wider in the toe box than some of the other models Lems produces (e.g., Trailhead and Mesa), but less wide in the toe box than others (e.g., Primal 2, Primal Zen, Chelsea Boot, etc.). Most users of this shoe will be able to comfortably wear Correct Toes inside of it as is (or with the optional insole removed), which is another way of saying that the Primal Pursuit is sufficiently wide (where you need the width) for achieving optimal foot form and function. We always recommend that you perform the Shoe Liner Test to see for yourself if a given shoe or boot will be sufficiently wide for your unique foot.
Are There Any Additional Considerations for This Shoe?
If you've already made the transition to minimalist footwear and prefer maximum ground feel, the Lems Primal Pursuit may not be the shoe for you. There are other foot-healthy shoes available with a similar amount of tread that provide a more minimalist fit and feel. That being said, when hiking over technical terrain, a slightly stiffer sole may, in some cases, provide better grip on rocks, which can make shoes like the Primal Pursuit a welcome addition to any outdoor lover's shoe quiver. In the Lems Primal Pursuit, your feet will still function from a natural position, and this shoe will still aid your balance in a way that conventional shoes cannot.
Everyone has unique preferences for footwear, even in the world of healthy-foot-shaped shoes. Ultimately, the Lems Primal Pursuit meets our criteria for a foot-healthy shoe, and we feel comfortable recommending it for a variety of purposes based on our personal experience with the footwear. As a transitional shoe, it's a no-brainer. Beyond that, you'll just have to try it out for yourself to see if it's a good match for your particular needs and/or where you're at on your own journey toward optimal foot health.
Lems Primal Pursuit Shoe Review: In Summary
Overall, the Lems Primal Pursuit excels as a transitional shoe that melds technical capabilities with fashion-forward accents. For those working hard to transition to minimalist footwear, versatility is key, and this shoe certainly provides ample amounts of that. We were impressed with its practicality in a wide range of situations, especially when traveling and doing some spontaneous exploring. Plus, it checks off some important boxes from a foot health and function standpoint with its generous toe box, zero-drop platform, and overall lightweight design. If your daily forays tend to take you from the pavement to the trail and back, or if you are seeking a gateway into the world of more minimalist-type footwear, then the Lems Primal Pursuit might just be the shoe for you.
The Lems Primal Pursuit scores 4.4 (out of 5) on the NFAR scale, which puts it in the "excellent" range for foot-healthiness.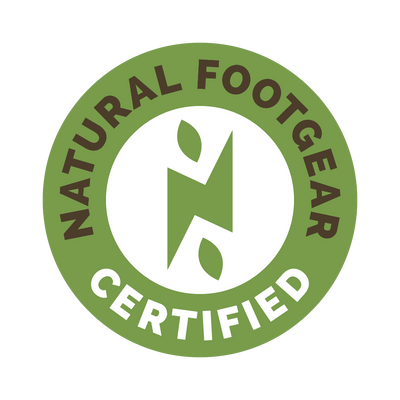 Natural Footgear Certified
The Lems Primal Pursuit shoe is Natural Footgear Certified, which means that it lives up to our strict criteria for what constitutes a healthy and beneficial natural foot product. In order to receive Natural Footgear Certification, products must conform to the key criteria we have identified as essential in supporting long-term foot and musculoskeletal health, and footwear must additionally score at least 4.4 out of 5.0 on the NFAR scale.
Disclosure:
We may receive affiliate compensation in connection with the purchase of footwear mentioned on this page (this doesn't cost you, the purchaser, anything, and it helps to keep Natural Footgear going). Even though we may receive compensation, we always give our honest opinions, findings, beliefs, or experiences on or about all models. See our Ethics Policy for more details.
Related articles:
Among functional footwear, the Lems Primal 2 is a true standout. Hailed for its foot-friendly design, comfort, and overall attractiveness,... Read more
After over a decade of success with the Primal 2, Lems has now introduced a new iteration—a whole new model,... Read more