The Natural Footgear Approval Rating (NFAR) is a 5-point shoe scoring system that examines the "foot healthiness" of a given shoe, boot, or sandal. All NFAR scores incorporate an assessment of 18 unique footwear factors.
Not all shoes are created equal, and it's important to understand what sets one shoe apart from another in order to be the most informed consumer possible. When it comes to evaluating footwear, there are many factors to consider, and it would be oversimplifying things to just label one shoe "good" and another shoe "bad." Indeed, in terms of "foot healthiness," the footwear available on the market today exists on a continuum. A given shoe, boot, or sandal might be healthy in some ways and unhealthy in others. Different footwear may have different benefits and drawbacks. Some shoes are less than ideal but are still better than many others. And some footwear may be problematic in all respects.
We at Natural Footgear have gathered and combined all the most relevant footwear factors to consider into a coherent scoring system in order to assist you, our valued reader, in your shoe shopping and selection process. The foundation of this system incorporates all the footwear advice we've given to our patients, customers, and family and friends over the years in terms of what to wear to achieve and preserve optimal foot health. The NFAR is a shoe scoring system that highlights all the footwear aspects that we, as physicians and foot health advocates, prize most.
As mentioned at the top of this page, the NFAR scoring system is intended to be a barometer of a shoe's "foot healthiness." It is a system that places value on footwear based on the ability of a given shoe, boot, or sandal to enable optimal foot strength and stability, confer appropriate sensation and proprioception, and prevent or address common foot and toe ailments, among other things. The NFAR is a numerical indicator of just how good a shoe is at supporting lifelong foot health. And, it's a (mostly objective*) way of assessing the inherent strengths and weaknesses of a given shoe so that you, as a consumer, can make the most informed decision possible about what to put on your feet.
*Because of the great subjectivity and/or the varying relevance associated with the following points, the NFAR does not consider or factor in a particular shoe's:
Overall look and appearance
Construction/durability
Price point
It's not that these factors are unimportant; they are, in fact, all very important considerations when it comes to selecting footwear. It's just that we, as physicians, are laser-focused on foot health and assessing the aspects of footwear that contribute to or detract from that. There are plenty of other individuals or companies out there who can speak to the three points above, and we leave it to you, the reader, to assign weight and value to each of these considerations.
Let's take a closer look at how an NFAR score is calculated, including all the many factors we consider when determining a numerical value for a specific shoe, boot, or sandal: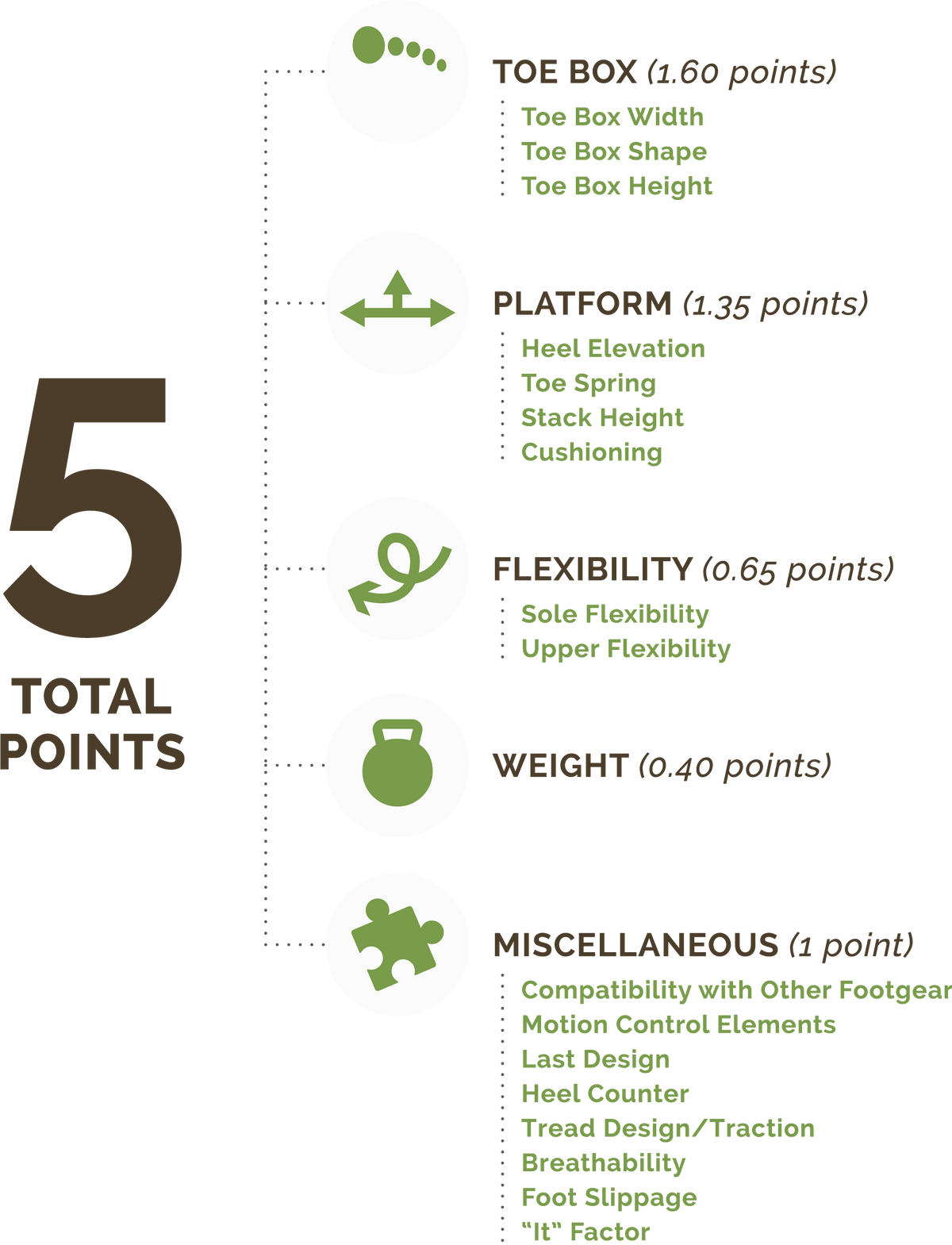 The NFAR is a 5-point scoring system, with a score of 5 representing the most ideal possible footwear; that is, a shoe, boot, or sandal (or other type of footwear) that perfectly embodies and expresses the footwear qualities we believe to be essential for long-term foot health and musculoskeletal function. The closer to a score of 5 a shoe is, the greater the likelihood that it will serve your foot and body in a way that enables optimal alignment, builds foot strength and resilience, and minimizes the chances of acute and chronic foot and toe problems.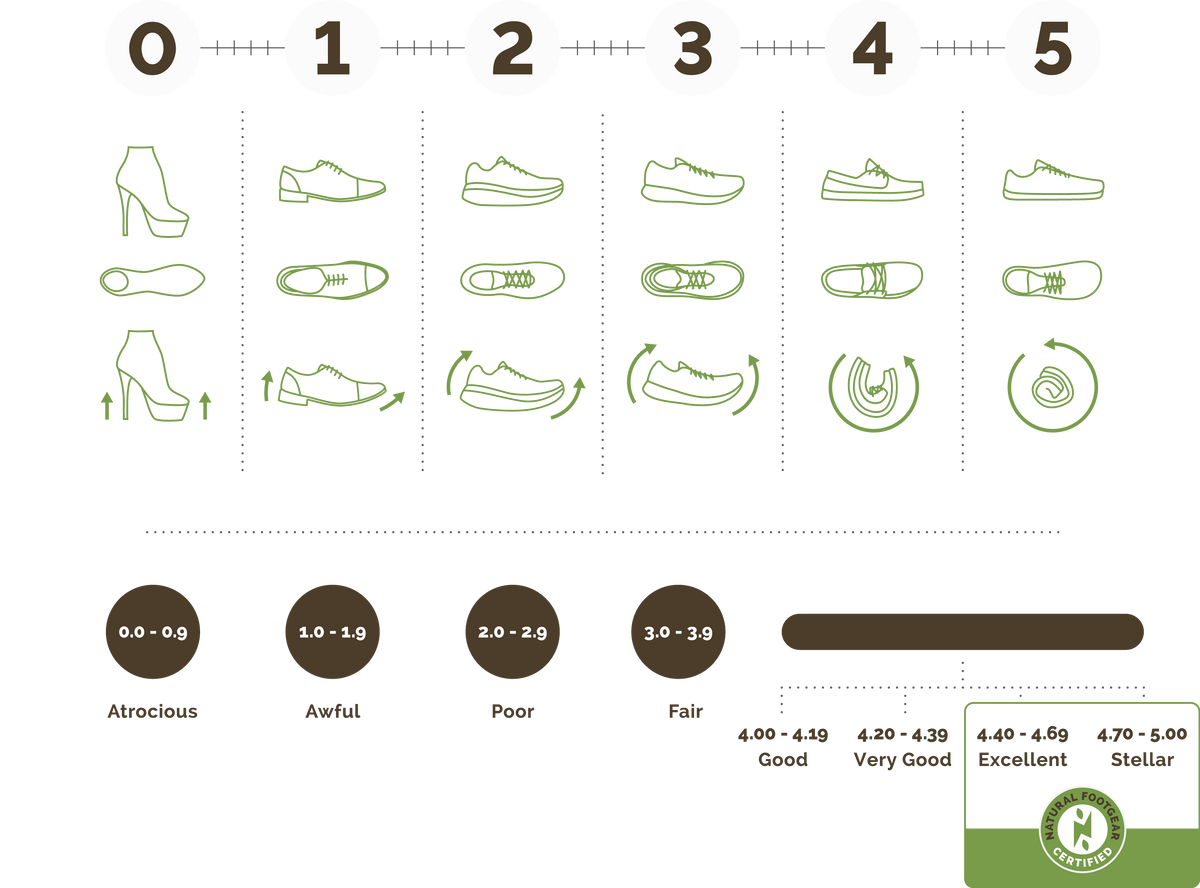 Of course, a shoe by itself cannot solve all foot and toe problems, and how the footwear is used, especially in the early stages, is also an important thing to consider. To learn how to safely and successfully transition to foot-healthy footwear, please read this article on our site that goes into much greater detail about the process of switching from conventional shoes to more healthy-foot-shaped and minimalist shoes.
---
The main footwear elements we assess when determining and assigning an NFAR score for a given shoe are the following:
1.
Toe Box
2.
Platform
3.
Flexibility
4.
Weight
5.
Miscellaneous
Let's explore each of these elements in greater detail here:
1. Toe Box (1.60 Points)
In terms of the NFAR, a shoe's toe box receives high scrutiny, which we feel is appropriate given that it's one of the most important elements of a shoe, and given the many well-documented benefits of toe splay and optimal toe alignment on foot health and function.
A good toe box should be wide enough to accommodate natural toe splay, including when enabled by Correct Toes toe spacers. Indeed, a toe box should be sufficiently wide to accommodate Correct Toes without any aspect of the shoe's upper impinging on any part of the device or toes. Correct Toes compatibility is our gold standard for determining appropriate toe box width.
A good toe box should also mimic the shape of a natural human forefoot with toes fully splayed. The closer to this ideal shape a shoe's toe box is, the more likely it is that the shoe respects normal and natural foot and toe anatomy. A very wide toe box width and an anatomically correct toe box shape are crucial regardless of whether or not you wear a toe spacing device.
And, finally, a good toe box should be sufficiently tall to prevent rubbing or chafing of the toe "knuckles" against the roof of the toe box. This is a particularly important consideration for those with hammertoes.
So, when it comes to assigning a score to a given shoe's toe box, we determine numerical values based on the following three main considerations:
1A. Toe Box Width (0.75 points):
Generally, the wider, the better, and, certainly, wide enough to accommodate Correct Toes. Because almost all marketed footwear tends to favor too-narrow, pointed toe boxes for aesthetic reasons, we have yet to encounter a shoe with a toe box that is too wide.
1B. Toe Box Shape (0.70 points):
As close as possible to natural human forefoot shape. Any degree of toe box tapering will result in point deductions, which can make a big difference in a shoe's overall NFAR score.
1C. Toe Box Height (0.15 points):
Ideally, sufficiently tall to easily accommodate as many unique sets of toes—and as much additional helpful footgear—as possible.
Together, these three toe box considerations account for 1.60 NFAR points. We have assigned this relatively high allotment of points on our scoring system to toe boxes because a good toe box is such an important consideration for foot and toe health and because it's so difficult to find in the marketplace. Any shoe that truly gets the toe box correct is justly rewarded on the NFAR.
2. Platform (1.35 Points)
A shoe's "platform" is what your foot rests on—basically the material between your foot and the ground—and should, ideally, be completely flat from heel to toe to enable natural arch support and ensure a stable foot/ankle complex. A flat support platform also allows your foot to become strong on its own. The importance of a shoe's platform is reflected by the fact that it receives 1.35 points on the NFAR scoring system.
When it comes to determining an NFAR score for a shoe's platform, we look at the following four factors: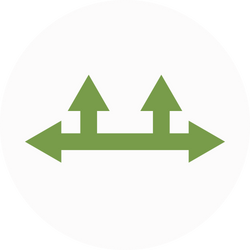 2A. Heel Elevation (0.60 points):
Ideally, a shoe should not lift or elevate your heel to any degree. The less heel elevation a shoe has, the higher this aspect of its NFAR score will be. Of all the platform considerations we assess, heel elevation—or lack thereof—is of paramount importance, given the role it plays in destabilizing the main foot arch and contributing to ball of foot problems such as neuromas, capsulitis, and sesamoiditis, as well as toe deformities such as hammertoes and other types of crooked toes.
2B. Toe Spring (0.25 points):
Ideally, a shoe should not "spring" or elevate your toes to any degree. The less toe spring a shoe has, the higher this aspect of its NFAR score will be. It must be noted that there is a difference between rigid toe spring and flexible toe spring. Rigid toe spring immobilizes the toes in an extended position for prolonged periods and can lead to long-term foot and toe problems (and should therefore be avoided). Flexible toe spring, on the other hand, can be easily compressed out under body weight and does not carry the same negative implications as rigid toe spring. Often, flexible toe spring is simply a byproduct of the manufacturing process in otherwise foot-healthy footwear.
2C. Stack Height (0.25 points):
Stack height is defined as the amount of shoe material between the foot and the ground. This number, usually reported in millimeters (mm), is the sum thickness of a shoe's insole, midsole, and outsole. The greater a shoe's stack height, the less likely it is that you'll be able to sense or feel the ground beneath your feet and experience natural walking or running gait. Greater stack heights also contribute to ankle sprains, due to the propensity for ankle rolling that comes with elevating the foot above the ground. In general, the NFAR rewards footwear with lower stack heights (to a point).

Note: There are scenarios in which a little bit more stack height may be acceptable, such as on very rugged terrain, in very cold conditions, or for those transitioning to more foot-healthy footwear after many decades of wearing conventional footwear. There are also scenarios in which very little stack height may be appropriate, such as for advanced or experienced minimalist shoe users who are seeking optimal ground feel and foot strength. Our scores for this measure tend to reward footwear with stack heights that fall within an optimal range for most users.
2D. Cushioning (0.25 points):
In general, the NFAR favors footwear with relatively little cushioning, as—contrary to popular belief—the more cushioning a shoe possesses, the harder on and more damaging to your joints it may be. Less shoe cushioning means greater ground feel, which is important for enabling natural walking and running mechanics and more conscientious footfalls. Less cushioning also translates into better movement efficiency, as more energy goes into propulsion than compressing the sole material. The less cushioning a shoe has (to a point), the higher it will score on this aspect of the NFAR.
Together, these four shoe platform considerations account for 1.35 NFAR points.
3. Flexibility (0.65 Points)
Flexibility is a major consideration for any shoe, boot, or sandal when it comes to foot health and function. The NFAR takes this into consideration and rewards footwear that can be easily bent, folded, or twisted in multiple directions, which is an indication of how likely the shoe is to let your foot move and articulate the way nature intended.
Shoe flexibility also plays a vital role in the development of foot strength and resilience. A shoe with greater flexibility will encourage your foot to become strong on its own, whereas a shoe with less flexibility (i.e., a more rigid shoe) will lead to foot muscle atrophy and decreased foot function.
When most people think of shoe flexibility, they think about the sole, which is indeed very important, but upper flexibility is a consideration, too, as this often has implications for how easily a shoe accommodates the foot and whether or not there is any impingement by the shoe's toe box on the toes. With that in mind, when we assess a shoe for flexibility, we take a look at the following two factors: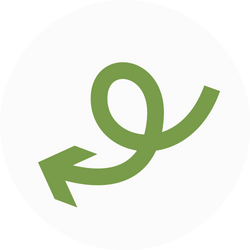 3A. Sole Flexibility (0.50 points):
In general, the more flexible, the better. A good indication of sole flexibility is whether or not the shoe can be rolled into a ball. The tighter the ball, the greater the sole flexibility (the amount of upper material—the material that covers the sides and top of the foot—also plays a role here). We also consider the extent to which a shoe can be twisted into a spiral, as this is an indication of the amount of side-to-side flexibility the shoe possesses. Shoes that have more flexible soles receive higher scores on the NFAR.
3B. Upper Flexibility (0.15 points):
A shoe doesn't necessarily need to have a flexible upper to be foot-healthy, but there is a higher likelihood that a shoe with a flexible upper will indeed be better (i.e., more accommodating) for your foot. An upper works in concert with a shoe's sole to determine the overall flexibility of a shoe. A flexible upper better accommodates (or allows for) healthy and stabilizing toe splay, and it better accommodates long toes and various forms of differently-shaped feet. This is important for sitting and standing, of course, but it's also important for executing all forms/directions of movement. In terms of the NFAR, shoes with greater upper flexibility receive higher scores.
Together, these two shoe flexibility considerations account for 0.65 NFAR points.
4. Weight (0.40 Points)
Another important consideration when it comes to footwear is weight. From our perspective, a lighter shoe is better than a heavier shoe, as it helps create a shoe-wearing experience that more closely mimics barefoot feel and function. Lightweight shoes tend to offer the possibility of a lighter step, which means reduced joint impact, as well as a more natural gait. Carrying less weight on the feet also means that the wearer can move faster and with greater deftness and economy of motion—three important outcomes that can translate into better performances for athletes, both amateur and professional alike.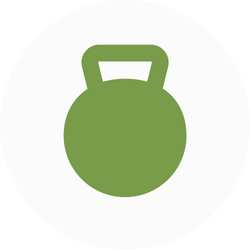 With the NFAR scoring system, lightweight shoes score higher (up to 0.40 points for exceptionally lightweight footwear).
5. Miscellaneous (1 Point)
There are a number of other factors that we consider when issuing an NFAR score for a given shoe. Each of these factors is important in its own right, though not necessarily to the same degree as the other factors mentioned above (at least in terms of foot healthiness). Included in this list of miscellaneous footwear factors that we assess are the following: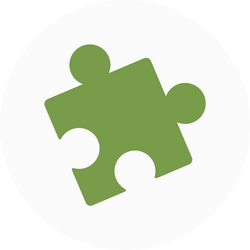 5B. Motion Control Elements (0.15 points):
We value footwear that does not include any arch bumps or props, sole materials, grooves, or channels that dictate foot movement, rocker soles, or other "motion control" features. Indeed, a shoe should allow the foot to function as naturally as possible, and it should serve only as an ornamental dressing and protective covering. Shoes that do not attempt to "augment" or "improve upon" the foot's inherently brilliant design score higher on the NFAR.
5C. Last Design (0.15 points):
A shoe last is a 3-dimensional wooden or plastic mold around which a shoe is constructed. Shoe lasts vary in shape—including the angulation of the forefoot relative to the heel—from one shoe company to the next. We favor straight lasts over curved lasts, or lasts in which the forefoot is in line with the heel, as opposed to being angled away from it. A straight last is more characteristic of older, simpler shoes, which still serve the foot well, and it is also more accommodating to the fourth and fifth toes and their corresponding metatarsophalangeal joints.
5D. Heel Counter (0.1 points):
A heel counter is typically described as the back portion of a shoe that wraps around the heel. Historically, heel counters have incorporated a semi-rigid or rigid plastic insert that attempts to "control" pronation and provide foot and ankle "support." From our perspective, however, a shoe that possesses a soft and collapsible heel counter serves the foot best, as it allows the foot and ankle to function the way nature intended and is more likely to offer a comfortable environment for the heel. A good heel counter, therefore, should be soft and pliable (so as to limit the likelihood of developing blisters and aggravating the insertion point of the Achilles tendon) while still cupping and cradling the heel. A good heel counter should also accommodate a variety of heel widths.
5E. Tread Design/Traction (0.1 points):
Shoes that possess greater traction—whether it's a result of tread design or outsole materials—tend to score higher on the NFAR.
5F. Breathability (0.1 points):
We prefer footwear that offers the wearer good breathability, which helps enable a drier and healthier environment for the foot inside the shoe.
5G. Foot Slippage (0.1 points):
A truly foot-healthy shoe allows the foot to flex, bend, move, and articulate in a natural way, unimpeded by motion control elements, but it should also cradle the foot in such a way as to prevent foot slippage—either from front to back or from side to side—within the shoe or upon the footbed. The shoe should be sufficiently snug around the heel and throughout the instep (to help prevent rubbing and blisters), yet it should still allow the toes to roam free. The fit of a shoe and the effectiveness of its closure system are particularly important considerations when it comes to assessing possible foot slippage in a given shoe.
5H. "It" Factor (0.1 points):
This measure reflects a shoe's overall elegance, or "how it all comes together." It represents the intangible value of a given shoe, boot, or sandal, and is an indication of how useful, effective, and appealing a given shoe is to the user. This factor considers the following questions (among others): How likely are you to wear this particular shoe? How often will you pick this shoe off your shoe rack, given all available choices? If you're traveling domestically or abroad, what's the likelihood that you will pack this shoe for a long trip?
When combined, the above miscellaneous factors account for 1 NFAR point.
---
NFAR: A Comprehensive Scoring System
The NFAR is a robust shoe scoring system that takes into account the many different facets of footwear (and what makes it helpful or harmful from a foot health perspective). NFAR scores are weighted in favor of the absolute most essential considerations, yet they still recognize other important aspects of shoe selection and use that might otherwise go uncontemplated. As always, when choosing footwear for your own specific foot health needs, we recommend consulting with a natural foot care provider before making any final decisions. Using this guidance in combination with your own knowledge and experience should allow you to make the most informed and healthful footwear selections.