Xero HFS (& HFS II) Shoe Review
JUMP TO SUMMARY
Founded in 2009 as a small, boutique company manufacturing DIY sandals, Xero Shoes has since become an industry staple in the minimalist footwear market, producing a wide variety of ready-made sandals and closed-toe shoes and boots in both the athletic and casual footwear spheres. With the thoughtfully designed HFS, Xero has shown how attention to detail can improve barefoot-style running and athletic shoes, providing an option for both competitive and non-competitive athletes alike.
Built upon a back-to-the-fundamentals, zero-drop platform that helps promote foot/ankle stability and a more natural gait, the Xero HFS boasts an abundance of design features that serve to improve performance and comfort. For users of this shoe, this also represents an opportunity to make foot and musculoskeletal gains in a variety of contexts. The Xero HFS, then, not only checks all of the boxes for optimal foot function, but it also provides performance features that set it apart from other athletic shoes we've tested.
Read on for our full review of the sporty Xero HFS (and HFS II)!
Before we get rolling with this Xero HFS shoe review, though, an important caveat: In this article, we are reviewing the men's version of this shoe, which is what we recommend all users purchase (to ensure maximum toe box width). More info about men's vs. women's models and sizing suggestions for all will appear later in this article.
What Are the Most Notable Design Features of the Xero HFS?
While the Xero HFS has a range of technical features, we'll start by covering the basics. Here are the three most notable design features we've identified in this foot-friendly athletic shoe:
Wide Toe Box: It's vitally important for lower body musculoskeletal health and function to be able to use Correct Toes inside shoes of all kinds (it's our gold standard for assessing footwear, in fact), and the Xero HFS (for most users) satisfies this criterion. With athletic shoes, in particular, it's crucial that the toes have plenty of room to spread and articulate, and when sized correctly, the HFS's toe box provides sufficient space for natural toe splay without sacrificing performance. Natural toe splay not only improves balance, but it also allows you to generate more muscular activity in the forefoot, experience enhanced foot and toe blood flow, and reduce the likelihood of soft tissue injuries caused by poor joint alignment in the lower body.
Zero-Drop Platform: As their name suggests, Xero's shoes incorporate a zero-drop platform (i.e., a sole that's completely flat from heel to toe) that allows your foot to function on a level plane, and the Xero HFS is no exception. Conventional athletic shoes elevate your heel above your forefoot under the flawed assumption that you need a heel wedge to propel you forward. This is not only a myth, but it's a design inclusion that commonly leads to foot and lower extremity injuries. Indeed, by propping up your heel, your posterior leg muscles and tendons are shortened, and excessive force is routed through your forefoot—the location of many important (and vulnerable) structures and tissues. The flat-soled Xero HFS, on the other hand, is a true zero-drop shoe that helps stabilize your foot and ankle and promotes a more natural gait, allowing your foot to absorb impact in the way that nature intended.
Flexible Sole: Along with a roomy toe box and a zero-drop platform, a flexible sole is essential in building strong, healthy, and resilient feet. The Xero HFS excels in this regard, too, with an ultra-minimal, 5 mm outsole that provides just enough protection from the ground while allowing your feet to flex, bend, and feel the terrain beneath you. While most manufacturers have led us to believe that protecting the foot in a cast-like, stiff-soled shoe is the key to preventing injuries, we've found that overly stiff footwear actually weakens the muscles and tendons in the foot and ankle and increases the likelihood of foot and lower leg problems. With its highly pliable sole, though, the Xero HFS is a flexible running shoe that promotes comprehensive foot and lower limb strengthening and confers excellent ground feel for those looking to optimize long-term foot health while enjoying a heightened sensory experience.
These important design inclusions, found readily in the Xero HFS, form the foundation of a truly foot-healthy shoe, and they help ensure that your foot will be able to perform at its best in an accommodating and comfortable environment. Let's now turn our attention to some of the other interesting and unique features of the Xero HFS, a shoe that athletes and active individuals of all kinds love for its technical features and ability to support the foot in a natural way.
What Are Some Other Unique Features of the Xero HFS?
As mentioned earlier, the Xero HFS is jam-packed with advantageous design features that promote optimal foot form and function (instead of trying to dictate foot shape, position, and performance, like many conventional athletic shoes) and is thoughtfully constructed to ensure that you get the most out of them. Some other unique features of the Xero HFS, then, include the following:
Tire Tread-Inspired Sole: Billed as a road running shoe (though it can certainly be used for other athletic pursuits—more on that below), it's no surprise that Xero took inspiration from where the rubber meets the road when designing the HFS. With forward-aligned lugs, the outsole of the HFS provides a streamlined feel, and it excels on pavement or other hard-packed surfaces. As you can see from the image of the HFS's tread earlier in this article, the central lug pattern curves along the natural shape of the foot, and the symmetrical pattern prevents unnecessary friction.
Durability: While ultraminimalist, the Xero HFS's FeelTrue rubber sole holds up well to daily use, an outcome that can be attributed to its clever tire tread-inspired design and the quality of the sole material itself. As is to be expected, we've seen some outsole wear after six weeks of steady use, but compared to other, over-manufactured tread patterns, the HFS wears evenly, maintaining traction throughout the life of the shoe. (Note: Xero offers a confidence-inspiring 5,000-mile sole warranty.) While not suitable for technical trails for most users (except, perhaps, advanced users of ultraminimalist footwear), we've tested the HFS on hard-packed dirt and wouldn't hesitate to use them on flat trails where rocky obtrusions are limited.
Ultra Lightweight Design: The Xero HFS, weighing in at about 8 ounces per shoe, is so light that it's hardly noticeable on your foot when running or walking. Designed primarily for road use where abrasions and snagging are virtually nonexistent, Xero was able to implement a featherlight construction with the HFS. We routinely stuffed these shoes into packs when gearing up for lunch break runs, and on more than one occasion, we thought we'd forgotten them at home! Apart from being practical at such a light weight (as well as easy to stow), the minimalist design of these shoes allowed us to focus on our breath and cadence, providing an airy, barefoot-like sensation when on the move.
Breathable Mesh/Moisture-Wicking Upper: As stated above, the Xero HFS is constructed from some of the lightest materials available to manufacturers. The upper of this well-ventilated athletic shoe incorporates a breathable mesh that keeps your foot cool on hot days, and the moisture-wicking fabric prevents moisture buildup on longer runs or outings. While this might seem trivial, moisture buildup actually prevents the pores from expelling heat properly, limiting performance and recovery. When paired with Correct Toes, our feet stayed dry and comfortable for the long haul, and while these shoes don't quite smell as fresh as they did out of the box, they've remained largely odor-free.
Huarache-Inspired Lacing: With four eyelets positioned where tightening and a secure fit are key, Xero spared excess material with the HFS, providing a huarache-inspired lacing system that keeps your foot snugly in place without any unnecessary frills. The HFS's instep and midfoot straps connect to the eyelets and laces for easy customization, keeping all foot shapes comfortable and rooted in place inside the shoe. While lightweight, the HFS's laces are plenty durable, and they stayed knotted over distances exceeding 10 miles and with intensities ranging from a gentle walk to high-energy intervals.
Overall, the Xero HFS has technical features that make it an ideal ultralight running and athletic shoe, sparing you the unnecessary features found in conventional athletic footwear that add weight and bulk and negatively impact the user experience.
SHOP XERO HFS SHOES
What Activities Is the Xero HFS Shoe Suitable For?
Clearly, the Xero HFS is designed as a road running and walking shoe, and it truly excels in this realm. The HFS's lightweight build makes it suitable for racing, too, and it's also well-equipped to be your go-to trainer. As with most foot-healthy minimalist athletic shoes, the HFS can be used for a variety of other movement-based activities, including tennis, squash, racquetball, pickleball, gym workouts, and fitness classes of all kinds. The flat, thin, and flexible sole of the Xero HFS enhances the experience of body-weight training in particular, and if you forget your casual shoes or simply want to be out and about in something more breathable, the HFS can accompany you virtually anywhere your day might take you. The ultralightweight nature and foldability of the HFS also make it a great travel shoe.
Do I Need to Transition to Wearing the Xero HFS Shoe?
The Xero HFS is a true ultraminimalist athletic shoe. If you're just beginning the transition to minimalist footwear, you'll want to take some time to adjust to it or start with something with a bit more padding between your foot's sole and the ground. For working out and casual use, we recommend wearing these shoes for as long as you feel comfortable and then increasing that time frame as foot and musculoskeletal adaptations occur. If you're hoping to make the Xero HFS your next go-to running shoe, we recommend wearing them for short distances at first and listening to your body as you go. It's easy to overdo it in the early stages, so we encourage you to exercise care and restraint and observe the signals your body is sending you. We also encourage you to view our article entitled How to Transition to Minimalist Shoes for more info on this important topic.
When used in combination with Correct Toes, a medical-grade silicone toe spacing device, the Xero HFS gives you the opportunity to naturally strengthen your foot (and realign your toes) with each and every step you take. Whether you're running or working out in them, the HFS's flexibility and near-weightlessness allow your foot and ankle to respond to the ground, promoting the kind of brain-to-foot awareness that can maximize your performance, enable musculoskeletal health gains, and improve the quality of your footfalls. If you're looking for a trail shoe to tackle gnarly terrain, you might consider other models (like the Xero TerraFlex, for example), but if you're highly adjusted to minimalist shoes and need something for flat, packed trails, the HFS provides the platform and foot freedom-of-motion to take you there.
SHOP CORRECT TOES
Is the Xero HFS Compatible With Other Helpful Footgear?
As we've already mentioned, the size and shape of the toe box of the Xero HFS provide adequate room for most users to comfortably wear Correct Toes toe spacers while active. When we paired these shoes with Correct Toes and Injinji toe socks, we found it akin to wearing Correct Toes with sandals, as the breathability and comfort were truly unmatched. When using other helpful footgear in combination with a given shoe, it's essential that the shoe not impede or encroach upon the foot or toes in any way, and in this regard, the Xero HFS—a wide toe box running shoe—delivers.
Because the Xero HFS is, at its core, an athletic shoe, the use of Pedag metatarsal pads is recommended on a person-to-person basis. Because the transverse arch is usually activated while running, many runners find metatarsal pads unnecessary. That said, if you're using the HFS for gym workouts or for casual strolls around town, or if you have a ball of foot condition you're looking to actively address, we've found that they accommodate metatarsal pads as well as any other shoe we've tested. Also, those looking to enhance balance, posture, agility, and general foot/body awareness might consider pairing the Xero HFS with Naboso insoles, swapping out the existing shoe liner for these thin, flexible, and textured inserts instead.
SHOP HELPFUL FOOTGEAR
Can You Run a Marathon in the Xero HFS Shoe?
The short answer is yes! It is certainly possible to run a marathon in the Xero HFS shoe. The longer answer is: Running a marathon in the Xero HFS minimalist running shoe can be a positive and empowering experience, but it's important to consider your individual needs and preferences. This lightweight athletic shoe offers a barefoot feel with lots of sole flexibility, which makes it a great choice for runners who already have some familiarity with this kind of "barely-there" footwear. Prior to the gun going off on race day, it's important to ensure that your feet are accustomed to this kind of barefoot running shoe and that you've trained in the HFS extensively. It's also advisable to consider the terrain and conditions of the marathon course itself, as ultraminimalist shoes may not be ideal for all types of surfaces. Ultimately, the suitability of the Xero HFS for running a marathon depends on your running style, your current level of foot strength and resiliency, and your comfort with minimalist footwear, so it's essential to make an informed decision based on your personal running—and foot health—journey.
What Size Should I Order in the Xero HFS?
Xero recommends ordering a half-size up in the HFS, as they tend to fit a bit small, whereas the sizing suggestion for the HFS II is to order your normal US shoe size. We followed these guidelines for testing, and the recommendations were spot on. Wide toe box shoes tend to feel a bit loose around the forefoot at first, so if this is your first foray into minimalist footwear, understand that this is a common experience and that it will come to feel normal over time. In fact, for most people who switch from tapering toe box athletic shoes to wide toe box versions, there is usually no going back.
Also, to know that you've achieved a great fit in the Xero HFS, you'll want to assess where your toes rest within the shoe when standing. We often find that it's best to have about 1 centimeter of space between the ends of your toes and the front of the shoe's toe box. This usually leaves enough space to accommodate the toe lengthening and other beneficial foot adaptations that inevitably come with using this style of shoe for weight-bearing activities.
How Do Men's vs. Women's Versions of the Xero HFS Compare?
As with most of the Xero models we recommend, we advise that women order the men's version of the HFS when making their purchase. Going for a more gender-specific fit, Xero opted to make the toe box of the women's model relatively narrower than the men's version, but we feel that both men and women alike have the potential for a similar range of toe splay and that most women can benefit from the same relative toe box width as men.
Because Xero recommends going a half-size up in the HFS, women interested in this shoe can simply adjust the sizing down by one full size to determine their comparable size in the men's version. So, for example, if you normally wear a women's US size 8 shoe, consider ordering a 7 in the men's Xero HFS instead. For the HFS II, women will want to adjust the sizing down by 1.5 to determine their comparable size in the men's version. For example, if you normally wear a women's US size 8 shoe, consider ordering a 6.5 in the men's Xero HFS II instead.
Other than differences in the relative toe box width and the available colorways, all design elements of the men's and women's Xero HFS are identical.
SHOP XERO HFS SHOES
Are There Any Additional Considerations for This Shoe?
As with all ultraminimalist footwear, you should first consider where you are on the path to transitioning to barefoot-style shoes. With a 5 mm, highly flexible outsole and lightweight, airy upper, the Xero HFS is like a thin protective sheath for your bare feet. If you have sensitive feet or if you're still adjusting to shoes with a completely flat sole, we'd recommend starting with a more transitional-type shoe (such as the Lems Primal Pursuit) or easing into use with care.
Additionally, because the Xero HFS sports a minimalist design to help optimize athletic performance and natural foot function, we can't attest to their extreme long-term durability. Most athletic shoes of similar weight and construction are considered "race shoes," and they might only survive a handful of races before being replaced. We can attest, however, that the Xero HFS is more durable than most race shoes, but this shoe may not last as long as bulkier, over-manufactured daily joggers. The trade-off, of course, primarily comes in the form of foot health benefits, as barefoot-style shoes such as the HFS provide the opportunity to restore optimal foot form and function through a natural fit and feel.
What's the Difference Between the Xero HFS & HFS II?
The Xero FHS II (pictured above, in Blue Aster), the successor to the original HFS, possesses the same DNA as its forebearer, but it incorporates a few key updates that improve upon the already stellar design of this vaunted Xero classic. In addition to the updated sizing recommendation mentioned earlier (i.e., order your regular US shoe size as opposed to a half-size up), the HFS II has a new tread design and pattern that provides some additional grip and makes it easier to take these shoes on off-road adventures. The Xero HFS II also includes a thin layer of Xero's BareFoam inside the shoe, which serves to provide a wee bit of extra protection for your foot's sole while helping to smooth out your ride. Other than these updates, as well as some new color options in the HFS II, these two iterations are pretty much identical.
Xero HFS Shoe Review: In Summary
When we first tried on the Xero HFS, we were absolutely amazed at how light and flexible these shoes are. Xero has truly maximized the minimalist feel with the use of their relatively thin FeelTrue rubber outsole and the breathable nature of the HFS's upper, and all other specs meet our demands for foot-healthy athletic shoes. This comfortable barefoot running shoe is flat from heel to toe, flexible in both the sole and upper, expansive in the toe box, and low in overall stack height. It also allows for excellent tactile feedback so that you can enjoy higher-quality footfalls and a more efficient and natural gait. Combined with the fact that these shoes are moisture-wicking, compatible with a variety of helpful footgear, and have a unique, tire tread-inspired tread pattern, the Xero HFS is most certainly in the pantheon of the best minimalist athletic shoes available on the market today.
The Xero HFS (and HFS II) scores 4.5 (out of 5) on the NFAR scale, which puts it in the "excellent" range for foot-healthiness.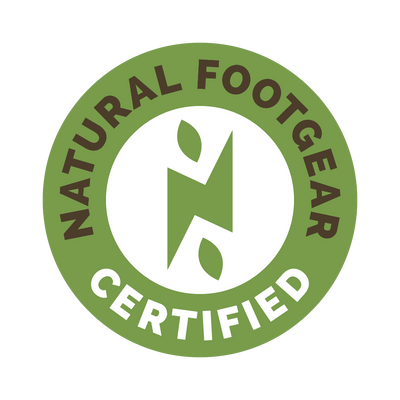 Natural Footgear Certified
The Xero HFS (and HFS II) shoe is Natural Footgear Certified, which means that it lives up to our strict criteria for what constitutes a healthy and beneficial natural foot product. In order to receive Natural Footgear Certification, products must conform to the key criteria we have identified as essential in supporting long-term foot and musculoskeletal health, and footwear must additionally score at least 4.4 out of 5.0 on the NFAR scale.
Disclosure:
We may receive affiliate compensation in connection with the purchase of footwear mentioned on this page (this doesn't cost you, the purchaser, anything, and it helps to keep Natural Footgear going). Even though we may receive compensation, we always give our honest opinions, findings, beliefs, or experiences on or about all models. See our Ethics Policy for more details.
Related articles:
Among functional footwear, the Lems Primal 2 is a true standout. Hailed for its foot-friendly design, comfort, and overall attractiveness,... Read more
After over a decade of success with the Primal 2, Lems has now introduced a new iteration—a whole new model,... Read more