Lems Primal 2 Shoe Review
JUMP TO SUMMARY
Among functional footwear, the Lems Primal 2 is a true standout. Hailed for its foot-friendly design, comfort, and overall attractiveness, the Primal 2 has stood the test of time and continues to be one of the most popular minimalist shoe models in the Natural Footgear community. Lightweight, foldable, and easily packable, this travel-ready shoe has also become a favorite of folks on the move who want a truly multifaceted option for explorations afield. In this Lems Primal 2 shoe review, we take a closer look at this vaunted classic (is it the minimalist footwear GOAT?) to better assess its attributes and any potential areas for improvement. We also offer thoughts on how best to use this healthy-foot-shaped shoe as well as who it might be most appropriate for.
Read on for our full review of the versatile Lems Primal 2!
What Are the Main Features of the Lems Primal 2 Shoe?
The Lems Primal 2 possesses a multitude of beneficial design features, the three most notable of which are the following:
Wide Toe Box: The toe box of the Lems Primal 2 is among the most generous that we have seen, and most people find that they can wear Correct Toes toe spacers inside the shoes, which is our gold standard for assessing toe box width. Not only is the toe box of this shoe sufficiently wide across the forefoot for most sets of feet, it's also shaped in such a way as to accommodate a healthy, splayed-toe configuration (and is, therefore, anatomically appropriate). So, in other words, the toe box of the Primal 2 is very close to being healthy-foot-shaped, which is a major positive in terms of promoting optimal foot and toe health, as well as being something that we look for in truly foot-healthy footwear. The height of the Primal 2's toe box is also adequate to accommodate a variety of toe thicknesses and configurations, which is of particular importance to those with hammertoes or other types of crooked toes.
Zero-Drop Platform: The Lems Primal 2 incorporates a zero-drop platform, which means that your foot rests on a level plane inside the shoe and that the shoe does not incorporate any heel elevation or toe spring—two common inclusions in conventional footwear that lead to a number of foot and toe problems. The fact that the sole of the Primal 2 is completely flat means that it promotes a stable foot/ankle complex and encourages natural arch support. Though some of the studio images of this shoe depict a certain degree of built-in toe spring, the reality is that any toe ramping is easily compressed out of the shoe in a weight-bearing situation, making it a non-issue for users.
Flexible Sole: Another notable design feature of the Lems Primal 2 is its supremely flexible sole. You can bend, twist, and fold the sole of the Primal 2 in all directions, which is an indication that it will let your foot function naturally inside the shoe. A flexible sole, such as the one incorporated into the Primal 2, allows your foot to become stronger with each and every step you take, and it provides your foot with the kind of tactile feedback that encourages optimal gait and proprioception. The upper of the Lems Primal 2 is also fairly flexible and accommodating—another positive attribute of this lightweight casual shoe that encourages natural foot function.
This unique combination of design features makes the Primal 2 a desirable shoe for those interested in building stronger, more resilient feet and feeling more connected with the earth. But what are some of the other beneficial design features baked into the Lems Primal 2?
What Are Other Key Attributes of the Lems Primal 2 Shoe?
In addition to the notable design features mentioned above, the Lems Primal 2 incorporates a number of other favorable attributes or elements, including the following:
Low Cushioning: The relatively low degree of cushioning (just the rubber outsole, really) built into the Primal 2 is a big plus in our books, as it translates into greater ground feel, more natural walking and running mechanics, more conscientious footfalls, and better overall movement efficiency.
Low Stack Height: With a stack height of 9 mm (that's 9 mm without the included 3.5 mm insole, which we recommend removing), the Lems Primal 2 puts your foot close to the ground, which helps reduce the likelihood of ankle sprains. A stack height of 9 mm falls within the optimal range for most users.
Low Overall Weight: Weighing in at around 7 oz. (men's size 10), the Primal 2 is very lightweight, which helps ensure a more barefoot-like shoe-wearing experience. Lightweight shoes, such as the Primal 2, encourage a lighter step, which, for most people, translates into less joint impact and a more natural gait.
Lack of Motion-Control Elements: The Lems Primal 2 is devoid of any built-in "motion-control" elements or "technology," such as arch bumps or props, for example. This is a good thing, because interventions like this that attempt to control the foot's motion and movement typically prevent the foot from articulating the way nature intended.
Comfort: Simply put, the Primal 2 is one of the most comfortable shoes we have ever worn. The combination of its foot-healthy design and the materials used in its construction (super-soft microfiber and open-weave mesh upper, air-injected rubber outsole) make this flexible everyday shoe truly delightful to wear. It works well in combination with Injinji toe socks, and you can also wear it on your bare feet with Naboso insoles for an enjoyable and unique shoe-wearing experience.
"IT" Factor: The Lems Primal 2 scores high when it comes to the "IT" factor, which means that it successfully blends foot-healthy design features with comfort and attractiveness. It's a shoe that appeals to a great variety of people, too, and most people who select the Lems Primal 2 tend to wear it on a regular basis (i.e., it doesn't sit around, unused).
Vegan Materials: The Lems Primal 2 is constructed exclusively of vegan materials (including the laces and the glue used in the manufacturing process). So, those for whom this is a key consideration can rest assured that no animal products are incorporated into this thoughtfully designed shoe.
The Lems Primal 2 packs in a lot of desirable features and is a great example of a shoe that does more by doing less (meaning, it largely stays out of the way of your foot and does not attempt to constrain or control your foot in any way). With the beneficial design features of the Lems Primal 2 now covered, let's turn our attention to the various activities for which this zero-drop shoe may be most suitable.
SHOP LEMS PRIMAL 2 SHOES
What Activities Is the Lems Primal 2 Shoe Suitable For?
To look at the Lems Primal 2, you might assume that its primary role is as a casual shoe, and it does indeed serve this purpose very well. It functions nicely as a footwear option for a variety of situations and events and is a great "around town" kind of shoe that offers you, the wearer, a comfortable environment for your foot. The Primal 2 also works great as a walking shoe, and most people find that they can walk for long periods and distances without the kind of pain or discomfort they experience in conventional walking shoes. Some people even use the Lems Primal 2 as a minimalist athletic shoe or as a lightweight running shoe, even though it doesn't necessarily look like what we've come to view as an athletic shoe. The broad set of uses possible with the Primal 2 makes it a truly versatile option for a wide range of users.
Who Might Benefit Most From Wearing the Lems Primal 2 Shoe?
The Lems Primal 2 is one of those rare shoes that can, in many cases, be used successfully by both experienced minimalist shoe wearers and those who are relative newcomers to the world of foot-healthy footwear (i.e., those who have only ever worn conventional footwear). Some users who adopt the Primal 2 as their go-to shoe, especially those who have worn conventional footwear for many decades, may find the relatively thin soles to be insufficient or uncomfortable, so these folks might benefit more from starting with a slightly thicker-soled, wide toe box footwear option, such as the Lems Primal Pursuit, first before moving to the Primal 2 after a period of adaptation.
The Lems Primal 2 can also be a helpful shoe for those who have or who have had certain foot and toe problems, or for those individuals looking to prevent some of the most common foot and toe ailments. By providing sufficient room for the forefoot and toes and by putting the foot on a level plane with a relatively thin and flexible surface beneath, the Primal 2 can—when used in combination with other natural approaches to foot health—be helpful in preventing or addressing bunions, bunionettes, hammertoes, other types of crooked toes, flat feet, ingrown toenails, neuromas, plantar fasciosis, shin splints, and runner's knee.
Note: Always consult with your physician before adopting any shoe for the purposes of managing an existing condition; your foot care physician is in the best possible position to know if the particular model you're considering is right for you and your unique situation.
Is the Lems Primal 2 Shoe Good for Your Feet?
When it comes to assessing whether or not a particular shoe is good for your feet, we've found it helpful to ask the following questions:
Does the shoe pass the Shoe Liner Test?
Does the shoe allow your toes to spread out?
Does the shoe allow for freedom of foot motion?
Does the shoe enable a good connection with the ground?
Does the shoe permit your foot to rest and act on a level plane?
Can the shoe be easily bent, folded, or twisted in multiple directions?
Can you easily and comfortably use the shoe with other helpful footgear?
On these counts and more, the Lems Primal 2 shoe delivers in a resounding way. This minimalist casual shoe is secure where it needs to be secure (i.e., at the ankle and around the heel and instep) but largely stays out of the way of your forefoot and toes, which is precisely what you want in a foot-healthy shoe. In our experience, we've found this wide toe box shoe to be helpful in addressing or preventing a variety of common foot and toe complaints, including the ones already mentioned above, such as bunions, hammertoes, other crooked toes, neuromas, and plantar fasciosis. Of course, it's always best to approach foot problems from a comprehensive standpoint and with the guidance of a foot care professional, as noted above, but adopting a good pair of shoes, such as the Lems Primal 2, is a crucial component in the journey toward optimal foot health.
SHOP LEMS PRIMAL 2 SHOES
Does the Lems Primal 2 Shoe Have Arch Support?
The Lems Primal 2 shoe decidedly does not have any arch support—and thank goodness for that! Some manufacturers produce footwear that contains built-in bumps or props that seek to "lift up" your medial longitudinal arch (i.e., your main foot arch) under the erroneous assumption that this important foot structure, which is so vital for the proper functioning of your foot and body, needs to be "supported" by placing material beneath it. An arch (any arch), when you boil it down to its essence, is a curved structure that supports the weight of material over an open space. The best thing for the foot, then, in most cases, is to simply get out of its way and let it function as it was intended. The Lems Primal 2 shoe, with its completely flat and flexible sole and wide, anatomical toe box, does exactly this, providing your foot with the kind of in-shoe environment that promotes natural arch support.
Indeed, what gives the medial longitudinal arch its characteristic "loft" is not some sort of material or artificial structure placed beneath it but rather the absence of these things. Optimal foot arch shape and function are attained when your heel and forefoot (including your toes) are resting or acting upon a level plane and your toes are allowed (or gently encouraged, with the use of Correct Toes) to spread out. It's this foot configuration, which the Lems Primal 2 so admirably enables, that generates arch loft and supports your foot in the most sustainable and effective manner possible. And not only that, but an arch structure that's "supported" in this fashion actually becomes stronger—the arch components "mesh" together more cohesively—when additional weight (including body weight, in terms of the main foot arch) is applied to it. The Lems Primal 2 was designed and built with this important understanding in mind and allows you to experience the inherent brilliance of your feet in their natural state.
Is the Lems Primal 2 Shoe Compatible With Other Helpful Footgear?
When it comes to compatibility with other helpful footgear, the Lems Primal 2 does not disappoint. In fact, the Primal 2 works very well with other natural foot health products for synergistic foot health benefits. These shoes can easily be used in combination with Correct Toes toe spacers, Injinji toe socks, Pedag metatarsal pads, Naboso insoles, and Tuli's heel cups to promote healthy foot and toe alignment and prevent common foot problems. And they can also be used alongside other natural footgear, such as BlackBoard training tools, Zensah compression sleeves, and the Naboso Neuro Ball, to improve stability, mobility, and foot and lower leg function. To best accommodate the helpful in-shoe footgear, especially Naboso insoles, we suggest removing the Primal 2's included (optional) insole.
The above-mentioned combination of products offers the possibility of profound and enduring foot health benefits as well as the restoration of normal foot and toe form and function. Using this footgear combination, you'll fairly quickly begin to feel your feet getting stronger, and you'll begin to see some daylight appearing between your toes—two signs that you're on the road to optimal long-term foot health. When paired with Correct Toes, in particular, the Primal 2 makes overpronation essentially impossible, and many people find that they no longer require conventional arch orthotics to "support" the foot. So, consider pairing your accommodating Lems Primal 2 shoes with other beneficial footgear to build healthier feet and help you recover your natural foot health heritage.
SHOP CORRECT TOES
SHOP OTHER HELPFUL FOOTGEAR
What Size Lems Primal 2 Shoe Should I Choose?
To get the most out of your Lems Primal 2 shoes, the manufacturer recommends that you order your normal US shoe size (or as close to it as possible, as this model only comes in whole sizes for men or half-sizes for women). For example, if you normally wear a women's US size 8.5 shoe, consider ordering an 8.5 in the Lems Primal 2. Or, if you normally wear a men's US size 11 shoe, consider ordering an 11 in the Primal 2. If you are between sizes, order up to the next available size. If you're on the fence about what size to order, consider ordering both sizes and then simply return the size that doesn't fit as well for a refund.
Here are a couple of sizing tips that we've found helpful when it comes to the Lems Primal 2 shoe:
Sizing Tip #1: To create additional roominess within the shoe, we suggest removing the included shoe liner/insole; this action does not, in any way, affect the performance of the shoe.
Sizing Tip #2: Correct Toes toe spacers will often add width and length to the foot. If you're planning to wear Correct Toes with your footwear, we recommend sizing up, especially if you are on the border between sizes.
This page provides additional sizing information for all Lems models, including the Primal 2, and includes helpful charts and diagrams intended to guide you in determining the best possible size for you.
SHOP LEMS PRIMAL 2 SHOES
How Do Men's vs. Women's Versions of the Lems Primal 2 Compare?
The Lems Primal 2 is a "unisex" shoe designed for all sets of feet and does not incorporate any men's- or women's-specific design elements or considerations. Given the unique anatomical proportions that exist between men's and women's feet, the Primal 2 does a good job of accommodating these innate differences, and most people find the fit to be appropriate, regardless of foot and toe shape or variations in relative foot dimensions.
Are There Any Additional Considerations for This Shoe?
While the Lems Primal 2 is exemplary in its design, there is always room for improvement in any shoe, boot, or sandal, and it's important to highlight some of the considerations that you, as an informed consumer, need to be aware of before purchasing the Primal 2 and using it on a regular basis. In our opinion, the following things would make the Lems Primal 2 an even better shoe:
Toe Box Width: Despite the Primal 2's generous toe box, there are some sets of feet for which it is still not wide enough. Individuals with very wide feet or very thick toes may still feel some impingement on the first and fifth toes. Tip: This impingement can usually be alleviated by using the FootFitter Shoe Stretcher to create a bit more space in any affected areas.
Toe Box Shape: The toe box shape of the Lems Primal 2, though far better than most other shoes available on the market, could, in our opinion, benefit from a few slight changes in order to achieve perfection. We'd love to see a slight widening of the toe box around the big toe and less curvature around the fourth and fifth toes. The latter, in its current iteration, tends to encroach on the fourth and fifth toes in some sets of feet, and squaring off this part of the toe box a bit more would be a helpful (and healthful) change.
Liner/Insole: Generally speaking, we find that most shoe liners or insoles are afterthoughts thrown in by the manufacturer to satisfy the commonly accepted belief by consumers that liners are essential. And while they may serve a role in some shoes as a more comfortable footbed, the Primal 2's liners are largely unnecessary, and the shoe-wearing experience, in our opinion, is actually better without the insoles than with them.
Traction: While it's true that the Primal 2 is not intended to be a rugged expedition shoe, and while this shoe is perfectly fine for most uses and in most situations, it's just not the best when it comes to traction. Indeed, the Primal 2 does not handle wet, slippery conditions as successfully as some other shoes out there on the market. It seems that there is a bit of a trade-off when it comes to the air-injected rubber outsole, in that it makes for a very comfortable, flexible, and lightweight shoe, but it also makes for relatively poor traction. One counterpoint to this is that the increased surface area of the Primal 2's wider-than-usual outsole (especially in the forefoot region) adds a bit more stability back into the mix for wearers.
Shoe Odor: A couple of thoughts on this topic: 1) Straight out of the box, the Lems Primal 2 emits a fairly powerful chemical smell, which is a byproduct of the manufacturing process. We recommend leaving the shoes outside, under a protective awning or covering, for several days prior to initial use to allow them to off-gas. 2) Like most shoes, the Primal 2 can become odoriferous after a long period of use or when this shoe gets wet. Fortunately, this problem is easily solved by sprinkling some Dr. Swaim's Medicated Body & Foot Powder directly into the shoe to create a drier and more pleasing environment for your foot (and nose!). You can also clean these shoes in a washing machine (cold water, gentle cycle) and then air dry them.
Adaptation Time: This isn't a knock against the Primal 2 in particular or per se, but anytime a wearer transitions from a conventional shoe (with its many undesirable design elements) to a more healthy-foot-shaped, minimalist-like shoe, there is going to be an adaptation period in which the foot rehabilitation process commences. This simply means that, for most people starting out with the Lems Primal 2, it will take some time for the feet to adapt to the thinner soles and until it's possible to wear the shoes for most or all of the day without experiencing foot fatigue. We recommend that anyone transitioning to the Primal 2 or footwear that's similar read our article entitled How to Transition to Minimalist Shoes.
All things considered, the Lems Primal 2 offers wearers an excellent user experience right out of the box, which is rare in the footwear industry. The above are just a few minor considerations to bear in mind when pondering a Primal 2 purchase; we feel that the points mentioned above, if deployed, could turn an already excellent shoe into a stellar shoe.
Lems Primal 2 Shoe Review: In Summary
Flat, flexible, and wide (and wide where it counts most, in the toe box, at the ends of the toes), the Lems Primal 2 helps you reconnect with the natural world while keeping your feet and toes healthy and pain-free. These shoes offer great versatility to meet the requirements and demands of an active lifestyle and offer you, the user, a lightweight design, excellent ground feel, a Correct Toes compatible toe box, and the opportunity to build strong, resilient feet. Wearing the Primal 2, you can feel confident that you are rehabilitating your foot with each and every step, and you can use your Primal 2s in a variety of situations, from casual settings to outdoor athletics, making them a truly versatile option. Indeed, and with all things considered, when it comes to healthy-foot-shaped minimalist footwear, the Lems Primal 2 might just be the GOAT.
The Lems Primal 2 scores 4.6 (out of 5) on the NFAR scale, which puts it in the "excellent" range for foot-healthiness.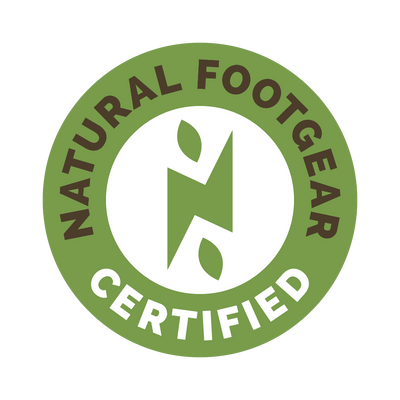 Natural Footgear Certified
The Lems Primal 2 shoe is Natural Footgear Certified, which means that it lives up to our strict criteria for what constitutes a healthy and beneficial natural foot product. In order to receive Natural Footgear Certification, products must conform to the key criteria we have identified as essential in supporting long-term foot and musculoskeletal health, and footwear must additionally score at least 4.4 out of 5.0 on the NFAR scale.
Disclosure:
We may receive affiliate compensation in connection with the purchase of footwear mentioned on this page (this doesn't cost you, the purchaser, anything, and it helps to keep Natural Footgear going). Even though we may receive compensation, we always give our honest opinions, findings, beliefs, or experiences on or about all models. See our Ethics Policy for more details.
Related articles:
After over a decade of success with the Primal 2, Lems has now introduced a new iteration—a whole new model,... Read more
After testing the Lems Primal Pursuit over a range of conditions, climates, and activities, we've been impressed by its incredible... Read more